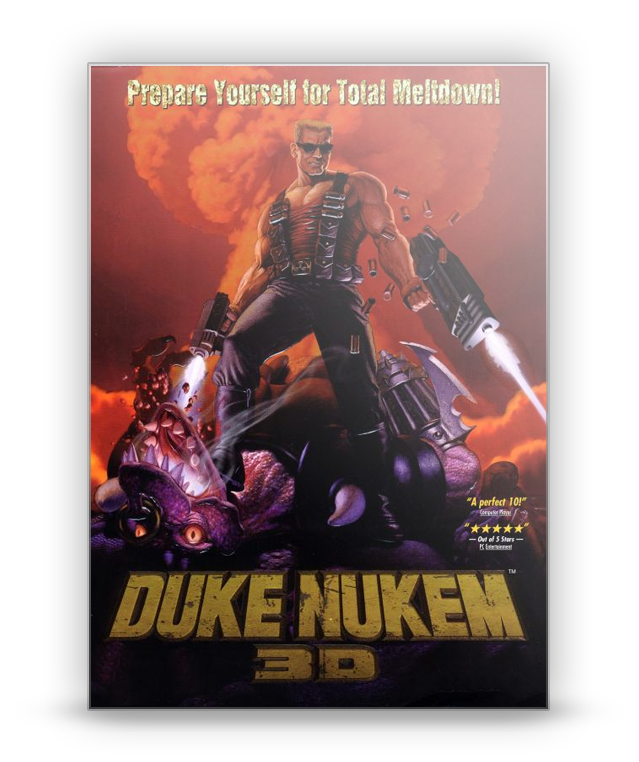 Digital Product only
The third chapter in the series, and the first with a 3D perspective (the original Duke Nukem and the sequel, Duke Nukem II, are side scrolling platform games). This game, set sometime in the early 21st century, begins in a ravaged LA, which was overtaken by aliens while you were abducted during Duke Nukem II. Duke, upon returning to Earth, finds himself with another mess to clean up, and another alien race that needs exterminating.
Duke is a can-do hero who realizes that sometimes innocent people have to die in order to save Earth, so accuracy of gunfire is not a real concern to him.
Features
Hail to the King: Be the guy in the boots for the first time ever in 3D.
Shoot 'em 'n' Boot 'em: Blast through a dozen types of enemies with more than 10 weapons, including pistols, shotguns and rocket launchers, and unique creations like the Freezethrower and Shrinker!
Episodic Awesome: Kick ass and don't chew gum across 4 episodes, which includes 40 levels of action-packed first-person shooting.
Friendly Fire: Frag up to 8 friends in series-first multiplayer.
Building Brilliance: Bare witness to the brilliance of the Build engine, as it brings the King's adventures to the third dimension for the first time!