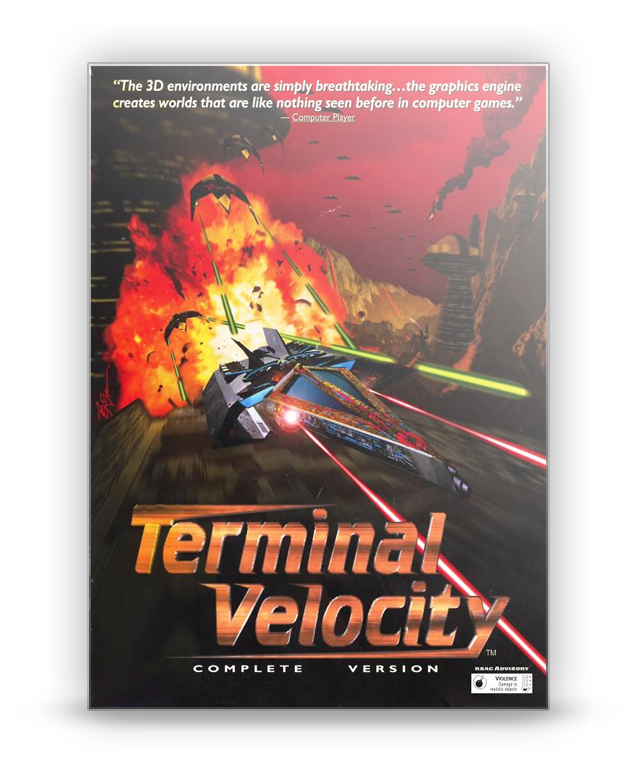 Digital Product only
Take flight in this pure action game that should come with a barf bag! Climb into Terminal Velocity now and you'll never go back to flight simulators that offer combat as an "option." Terminal Velocity is combat! All without the difficult controls presented by all flight simulator style games.
Created by the former lead programmer of Microsoft Flight Simulator, Terminal Velocity features a fast frame rate, realistic outdoor environments, and the unique ability to fly through tunnels and into underground caverns. Quite simply, Terminal Velocity is all about action, speed and destruction.
Features
All-rounder: Fast texture-mapped 3D flight with full 360-degree movement.
On Top of the World: 9 totally unique planets, with 3 levels per planet, and dozens of tunnels and over 400,000 sq. miles of terrain.
Shock and Awesome: 7 destructive weapons, power-ups and incredible air-to-air and air-to-ground combat.
Flight School: Enemy ships cast translucent shadows, bank, roll, do loops, make suicide runs and more.
Fly with Friends: Supports modem, serial cable, and network multiplayer games for 8-player network support and 2-player network support.
Controller Support: Partial Xbox 360 Controller support.