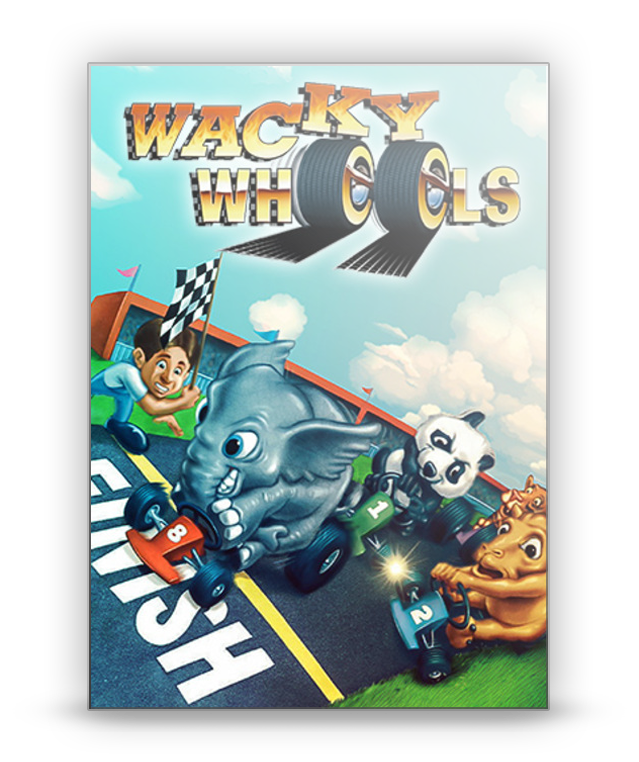 Digital Product only
---
Play as eight wacky animals in Wacky Wheels. Each animal has its own colorful antics and animations, including a tiger, elephant, raccoon, panda, shark, and more. These animals are incredibly competitive - they hate to lose! They take great joy in bumping, scraping and knocking you off the track. They want you at the back of the pack!
Nothing beats the competitive feel of racing. Feel the thrill as you race past your opponent, slam their car into a water trap, and beat them by a bumper to the finish line. Avoid obstacles, knock opponents, launch weapons, take shortcuts, engage turbo mode, and hit jumps with perfect timing to outrace your opponent every time!
Features
Three Dimensions of Dangerous: High-speed 3D point-of-view racing!
Pig Out: Large variety of race tracks (42 total in the "Upgrade Edition")
Dog Eat Dog: Two-player, head-to-head modes via modem connection, serial link or on the same computer.
Rat Race: 60 high score charts - one for each race type.
Lion's Share: Race it out in time trials, standard races, battle zones, and the just-for-fun duck shoot-outs!
Controller Support: Partial Xbox 360 Controller support.