Hello, my name is Arturo Pahua, and I am a 2D / 3D Artist at 3D Realms / Slipgate Ironworks. Today it's my turn to tell you a bit about the process of creating and designing GRAVEN's weapons, specifically the Peat Burner: an ugly, crude hulk that exists for one reason only: to destroy monsters and leave their ashes stinking.
One of the advantages of working for an independent studio is the synergy that is created with each developer. When there are no corporate divisions, we all have a voice, an opinion, which makes creativity an integral part of the development of our games.
It all starts with an idea for each weapon, which is proposed by one of our Game Leads. Although each weapon fulfills a function, let's say archetypal within the First Person Shooter genre (melee, spread damage, sharp shooter, high rate of fire, etc.) even within the context of the game and constrained by their function at gameplay level, these can be routed in such a way that they are visually unique. That is where I come in.
Throughout my career as a Concept Artist, I have worked on projects of all kinds and with different philosophies and methodologies, from independent productions, with more heart and soul than direction, to AAA productions in which every aspect of the artistic direction is scrupulously designed, and does not leave much space for the own interpretation of the object to be designed. In this way, I have had to adapt to be able to work in all possible techniques, ranging from overpaint to 3D concept work, or mattepainting, which many times ends up drastically moving away from drawing, which is what in the first place made me develop professionally as an artist. Fortunately, the development scheme in GRAVEN (and of all the productions of 3D Realms and Slipgate) is a mixture between flexibility and spontaneity, and organization and communication using management technologies. Therefore, when it comes to working, artists count on with a great creative and interpretation freedom, without neglecting the technical and core aspects of gameplay that the game requires. For this reason, projects like GRAVEN have become my bastion: a small island where I can travel to do something like I used to do as a kid and get away from the most modern methods of work, which would require me to take photos from the internet, create a huge reference sheet, and make a frankenstein concept with various elements. Even though they are respectable and perfectly valid techniques, mine is a bit more like a game that involves memory, instinct and a lot of sketches.
To begin, let's take the description of the Peat Burner:
"A crude wooden device which flings messy bricks of burning peat that stick where they hit and explode. "
Rather than go into a browser and type "Peat Burner" and see what comes up, I really like to stimulate my imagination. I read the description carefully, and considering the context of the game, and the defined art direction, I imagine that I am a gunsmith in this world before it went to hell, and that one day, while throwing the waste bucket down the window, I see that the mad lord of the town comes to visit my establishment to manufacture this weapon for him.
I usually prepare five to six drawings, but this weapon is particularly complicated, so my creative process takes longer than necessary. When I already lead a rebellion against the high taxes of the town of GRAVEN in which I live as a gunsmith, I decide to put my ideas into a single sketch, and share it with the team to see if I am on the right track. Although this time there were a couple of mistakes (or happy accidents, as Bob Ross and his cool afro put it)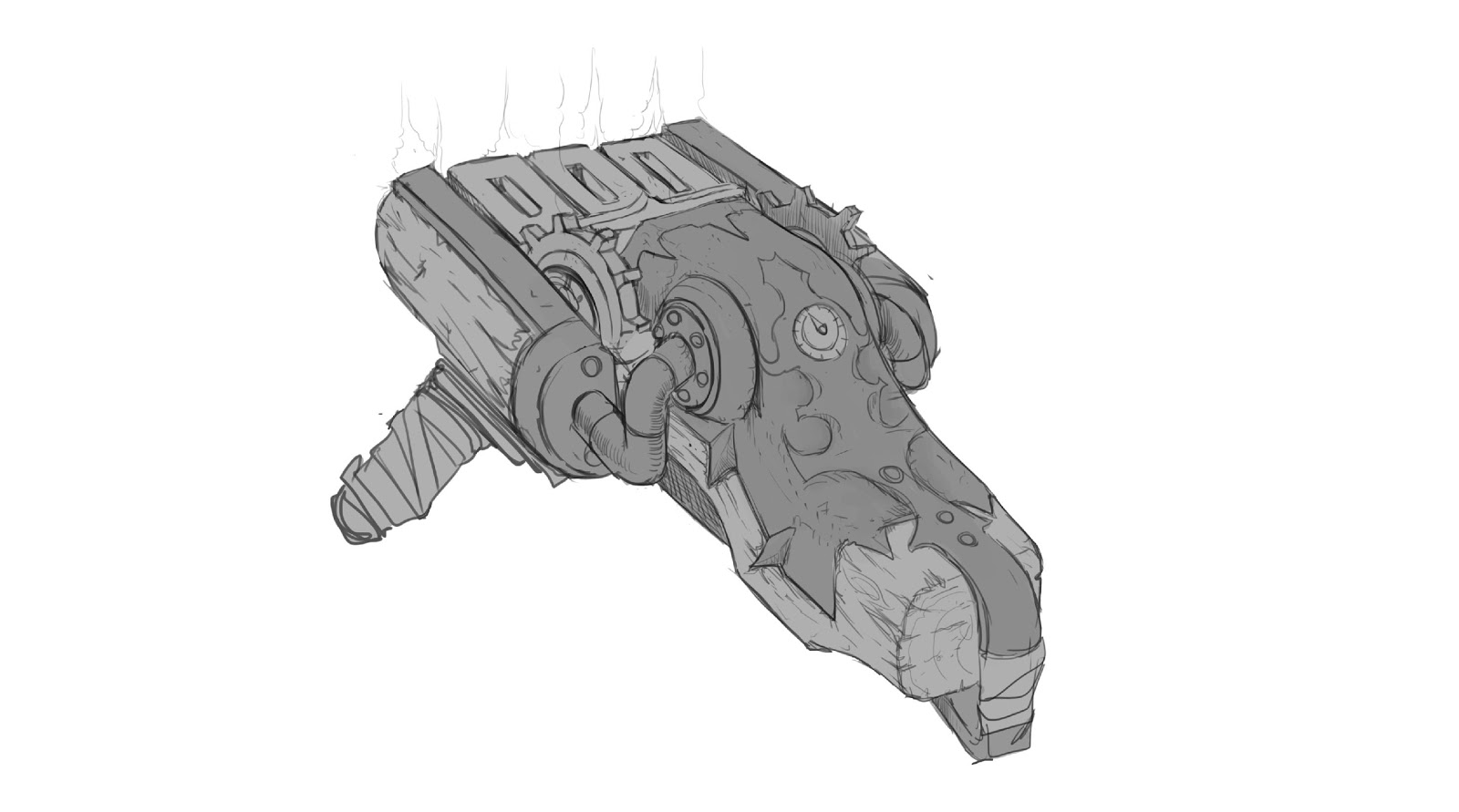 Although it has a rough design and launches bricks as the description asks for, there is an error that my colleagues point out: the bricks are not literally bricks, but accumulations of manure. In addition, some of our weapons already have this "horizontal" configuration and we run the risk of being repetitive.
Peat Burner 1 - Arturo 0.
In the chat the word "ugly" appears to describe the weapon, also, with the idea that this weapon is, in essence, a poop launcher. I take new courage, while trying to appease my dying inner adolescent with generous doses of old 90s sitcom episodes so he doesn't make me draw nonsense.
The next round of sketches, for practical reasons, was reduced to two proposals, which encompass different philosophies.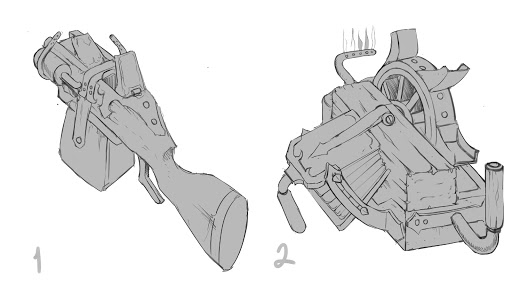 Proposal 1 is a two-handed weapon with top shuttles, a pressure and ignition system, and a sack containing the poop bricks. It looks somewhat elegant for what it is, but it seems to fit well into the concept of a unique and whimsical weapon, painstakingly crafted by this humble senile and drunken gunsmith. It looks easy to shoot, reload, and animate.

Proposal 2 is a mill that collects bricks from a receptacle at the base, which is fed by the bellows on the left. It doesn't make sense, it's horrible, heavy, rough, dirty, defies the laws of physics, and looks uncomfortable. It is perfect in short.

GRAVEN's setting is grim, and as my colleague Nikola said on his music dev-blog: tragic. What could be more tragic than being burned to death by a weapon based on a poo-throwing mill?
The team loves the second proposal. It's all jubilation and cheers, but it doesn't stop there: now I must refine this baby and make it presentable so that it can be modeled in 3D and put in game.
In other projects, I usually make an approximation (proxi) 3D model, animate the moving parts, and separate the structure. Then I send this model to the 3D artist, who uses it as a base and keeps the proportions intact. For GRAVEN I don't do any of that. I color it in an old-school technical way, partly because it helps to gives it a rough, old, battered effect (very much in the style of the game) and because it's so much fun.

I'm a somewhat minimalist artist. I know all the tricks and fancy effects that can be used in an illustration, but as a general rule I use only 3 layers: Line Art, Color, and Adjustments - although sometimes, in an act of rebellion, I collapse everything and paint without looking back. When the result has enough volume and texture, that's when one of our great 3D artists comes into action; Samuel. He has an incredible talent for interpreting concepts, and making corrections as required, which makes the transition from 2D to 3D easy. If he requires any more views that are not seen in the concept and cannot be deduced, I provide them. Although my résumé says that I know how to draw orthographic views, it has been years that they are not super necessary for some assets, either because I provide the Proxi models or the 3D artist is very good.

This is the finished piece.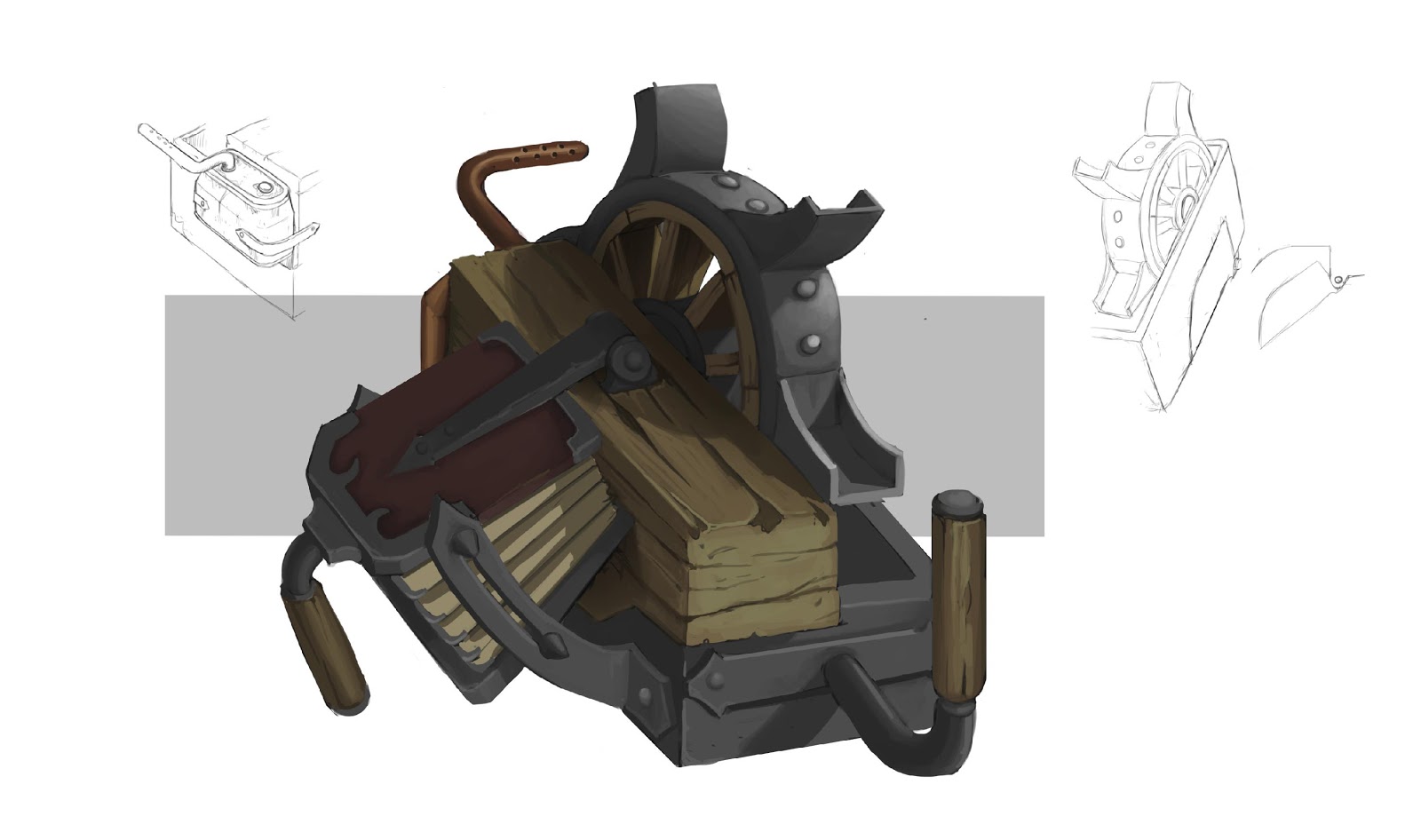 Thank you very much for reading this little breakdown of my art. I can't wait for you to play GRAVEN and use the bunch of weapons that this humble drunken gunsmith made for a mad lord with great dedication.
Make sure to wishlist GRAVEN on Steam and GOG!
Written by Arturo Pahua.