ABOUT THE CONTEST
Long time visitors to the 3D Realms website may remember an old regular feature, the "Camera Captioning Contest". It ran for a long time on our site. The original edition was posted in May of 1996, and it ran almost 11 years, going though till January 2007. With the relaunch of the 3D Realms Website, as well as the announcement of Bombshell, we thought it was time to bring back this much loved feature of the website.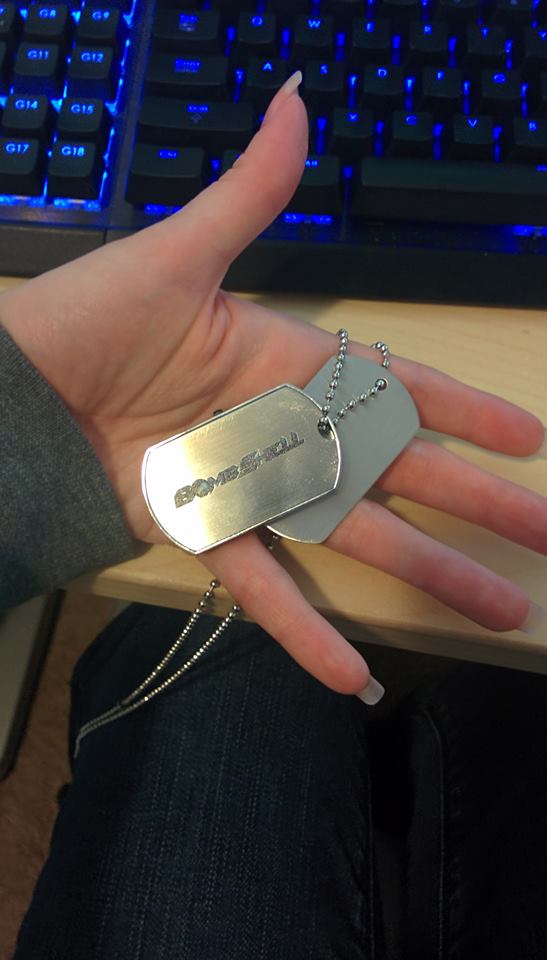 If you happened to be around back when the old contest was run, you'll find it is mostly the same, but somewhat different. When the old contest ended, things like Facebook and Twitter did not exist. They do now, and that's the new wrinkle. In the old days, submissions were sent in via email, and we selected the winners. This time around they new pictures will be posted on Facebook and Twitter. We will pick the winners from these entries. One catch though. The entries must be submitted to us using the hashtag #3drcam. If you don't use that hashtag, we won't see your entries.
CONTEST NOTES
The prize if you are chosen as a winner will be one of the Bombshell dog tags that were given away to press at GDC recently in San Francisco (shown to your right).
Once a winner is chosen, we will get in touch with them via social media for info on where to send the prize.
Prizes may or may not change going forward. The old contest had the same prize for almost the entire 11 year run, but this time, we are looking to do something different with the prizes.
Make sure that when you send us your entry that you use the hashtag #3drcam - otherwise we won't see it.
Each entry will run for two weeks, starting on a Tuesday.
CAMERA CAPTIONING CONTEST #245
March 17 - Mar 31
Why 245? That's because the last one we did on the old website was #244, so this is the next one! If you're interested in looking at all the old entries, they're available on our legacy website here. Send in your best entries to us on Facebook, Twitter, or on our own forums.
In reality, this is L-R: Jacob Østergaard, Fred Schreiber, & Grzegorz Zawadzki hanging a Bombshell poster in the Interceptor/3DR offices.