ABOUT THE CONTEST
Long time visitors to the 3D Realms website may remember an old regular feature, the "Camera Captioning Contest". It ran for a long time on our site. The original edition was posted in May of 1996, and it ran almost 11 years, going though till January 2007. With the relaunch of the 3D Realms Website, as well as the announcement of Bombshell, we thought it was time to bring back this much loved feature of the website.
If you happened to be around back when the old contest was run, you'll find it is mostly the same, but somewhat different. When the old contest ended, things like Facebook and Twitter did not exist. They do now, and that's the new wrinkle. In the old days, submissions were sent in via email, and we selected the winners. This time around the new pictures will be posted on our website, and the submissions will be taken on Facebook, Twitter, and our own forums. We will pick the winners from these entries. One catch though. The entries must be submitted to us using the hashtag #3drcam (especially if on Twitter). If you don't use that hashtag, we won't see your submission.
CONTEST NOTES
The prize if you are chosen as a winner will be a copy of the Steam version of the "3D Realms Anthology".
Once a winner is chosen, we will get in touch with them via social media for info on where to send the Steam Key.
Prizes may or may not change going forward. The old contest had the same prize for almost the entire 11 year run, but this time, we are looking to do something different with the prizes.
Make sure that when you send us your entry that you use the hashtag #3drcam (especially if using Twitter) and post it on one of the requested social media outlets - otherwise we won't see it.
Each entry will run for approximately two weeks. This entry was delayed due to some technical problems on our website.
PREVIOUS WINNER
The winner for Contest #253 was a user named Art Edelman from a Facebook direct message who wrote...
"Becky Taylor frequently has to see this at meetings being the only female on the team."
If you need a reminder, here is what the picture for Contest 253 was.
CAMERA CAPTIONING CONTEST #254
Oct 9 to Oct 22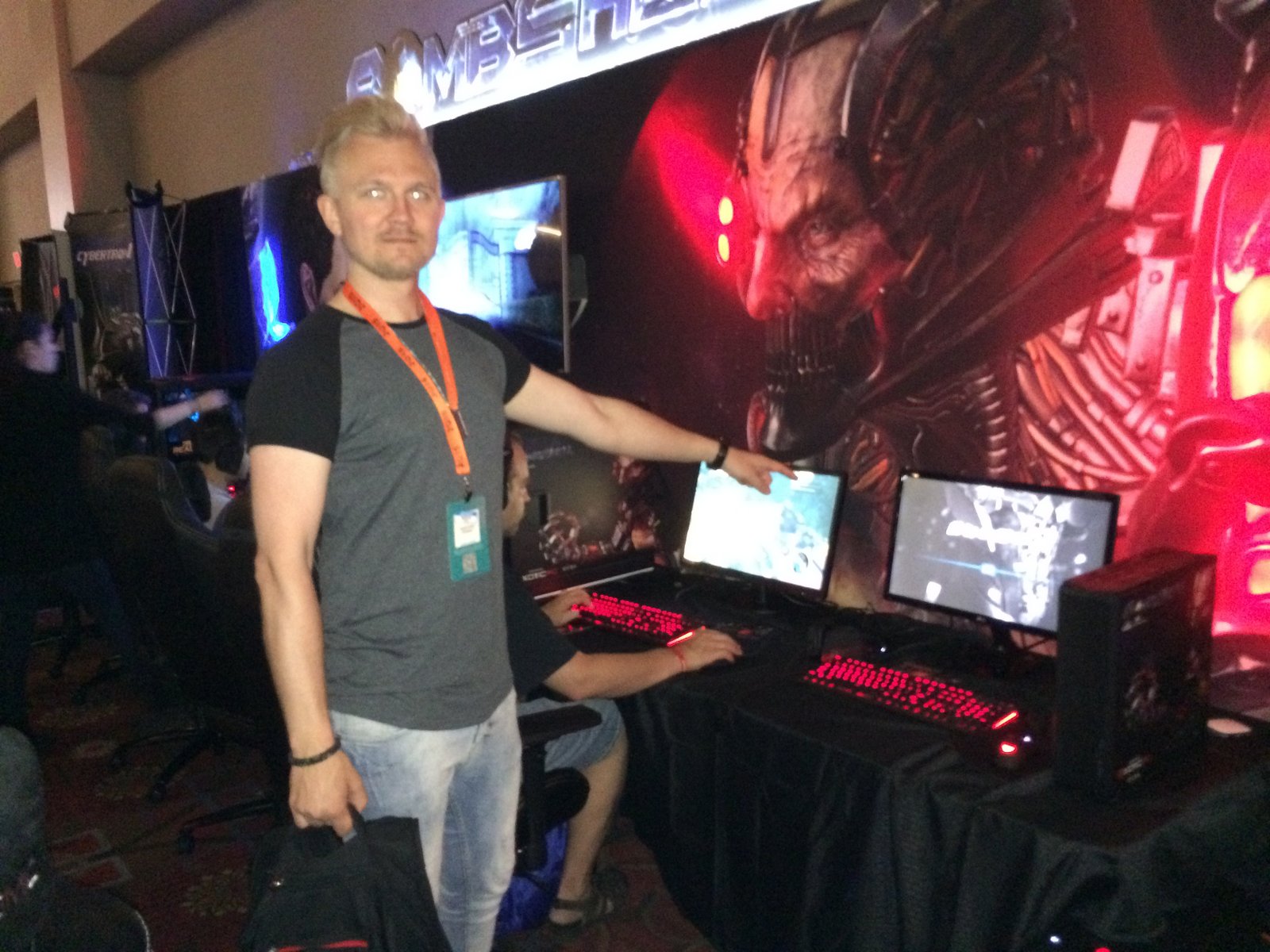 In reality, this is Fred at Quakecon 2015 imitating a famous picture taken back in 1996 on the day Duke Nukem 3D was first released.
The original picture from 1996 can be seen
here
.